Julie Kemp Pick
Recently I read an article about an agoraphobic writer who went on a journey to meet her Facebook friends. She made a New Year's resolution to spend a year traveling across three continents to connect with each of her 325 friends.
This made me think about how far I would go for a Facebook or blogging friend. Facebook helped me reconnect with people that I haven't seen or spoken to in years. Some friendships became more intensified, while others quickly fizzled. In many ways, Facebook is like a more polite version of high school.
The blogging community is an even more welcoming one. The cool kids mix with the older adults, and material possessions take on a different meaning. Though hunters and gatherers are found in both worlds, the camaraderie amongst bloggers surpasses any other social network.
I am grateful to the generous group of bloggers who frequently tune in, and support my efforts. Without them I would be transported to playing with my imaginary friends indoors, while listening to the laughter of other children outside my bedroom window.
This brings me to a wonderful award that
Rosalind Adam
and
Tonja
have graciously bestowed upon me.
Rosalind is fiercely loyal, and has an unquenchable thirst for knowledge. Tonja is juggling so many different things on her plate, and always has room for more. Both women soldier on with wit and grace. Tonja mentioned that Liebster means "dearest," while Rosalind expressed the origin of friendship. I am putting both of them together by passing this award on to my
dearest friends
in blogland.
These bloggers fall within the rules of the Liebster Blog as it is only given to those with less than 200 followers. I encourage you to visit all of these blogs that are guaranteed to make you laugh, cry or say, "Why didn't I think of that?"
Elaine at My Next 20 Years of Living
lou at writeclub
Rhonda at Laugh Quotes
Susan at I Think; Therefore I Yam
Last but not least, I want to thank
RJR Daydreamer
for passing this meaningful award on to me: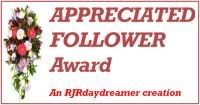 RJR is a very versatile writer who blogs about everything from the Royal Wedding to his adventures in carpentry. I'm thrilled that he created this special award and would like to share it with my faithful followers. Feel free to pick up this award with one condition; wear it like an undergarment knowing that without proper support, everything will come crashing down.
in
III met